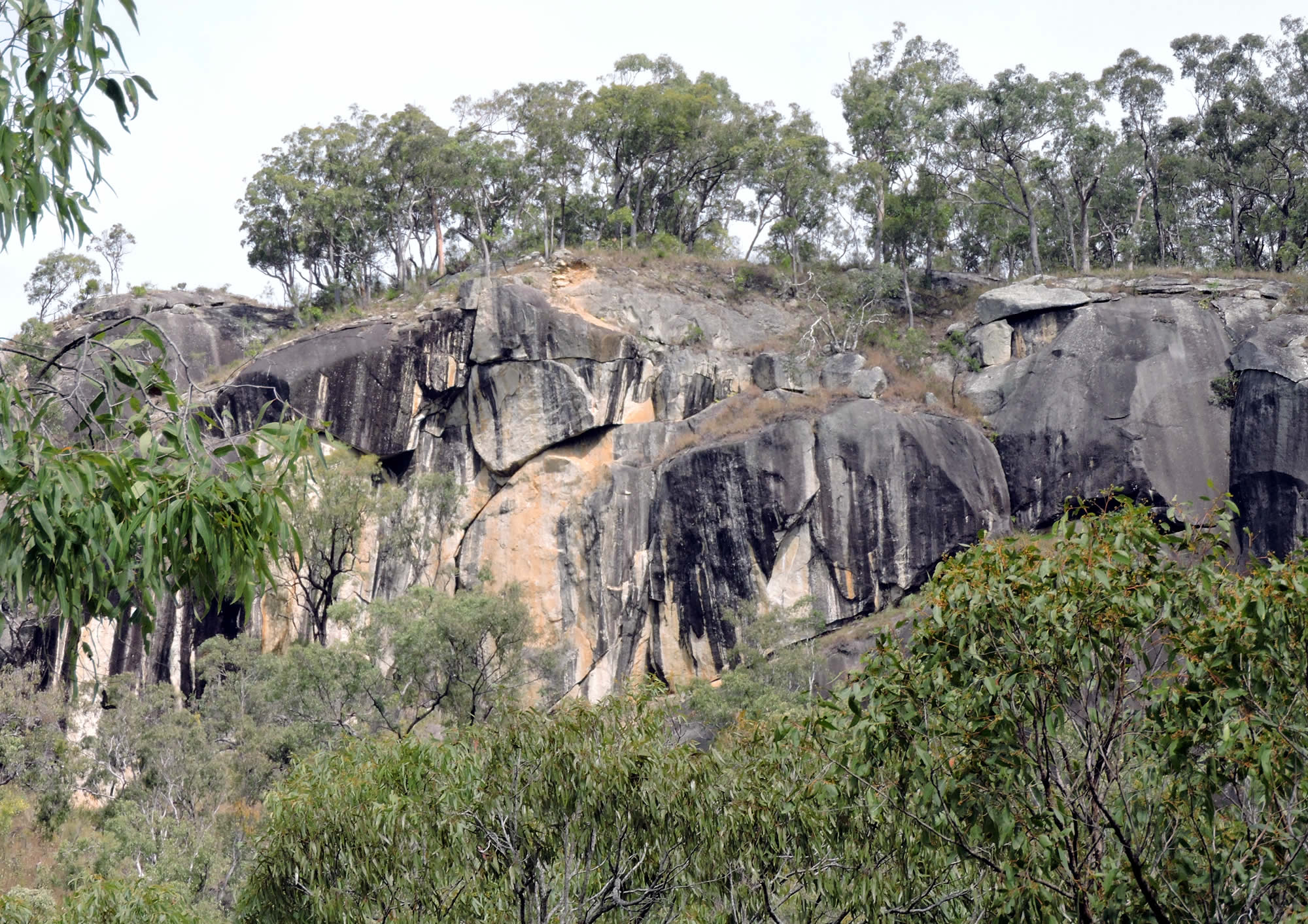 BULUWAI PROJECTS > ARCHAEOLOGY & HISTORY
Buluwai Stories: Katjiraka (Taipan) Family Tree
Buluwai Stories: In Brief- Cairns Regional Claim Tribes
VIEW, DOWNLOAD, PRINT
These files have been prepared as A3 for printing or you can click the high resolution PDF or PNG files below the image to view on screen.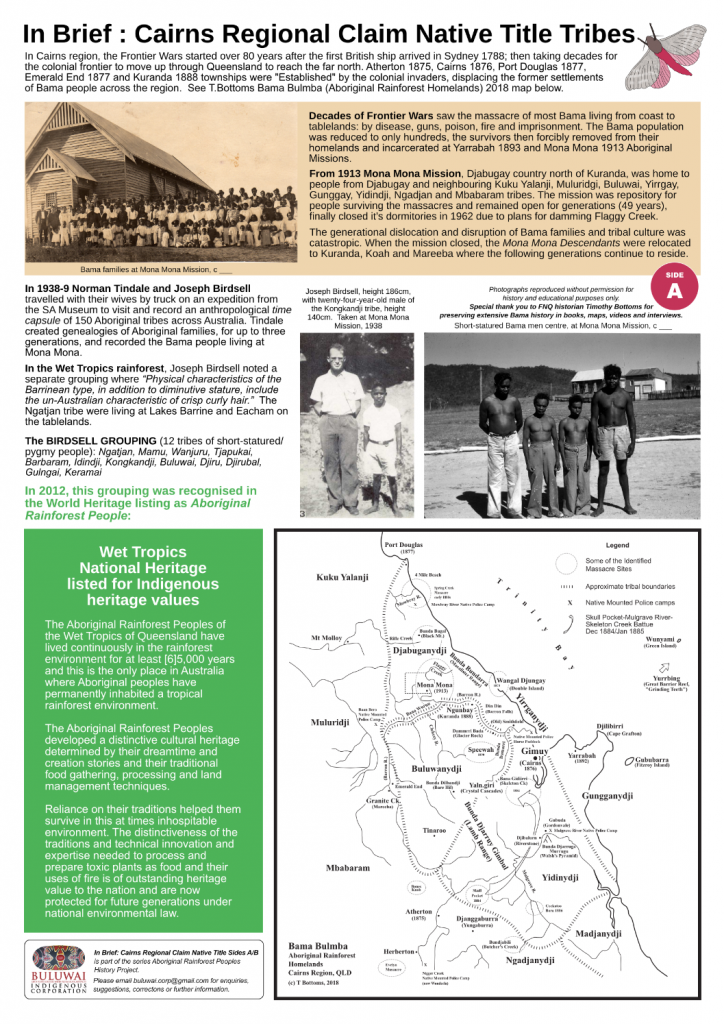 BAMA BULMBA TRIBES :: RAINFOREST PEOPLE OF KURANDA REGION in relation to Bulway, Buluwai, Bulwai, Buluwandji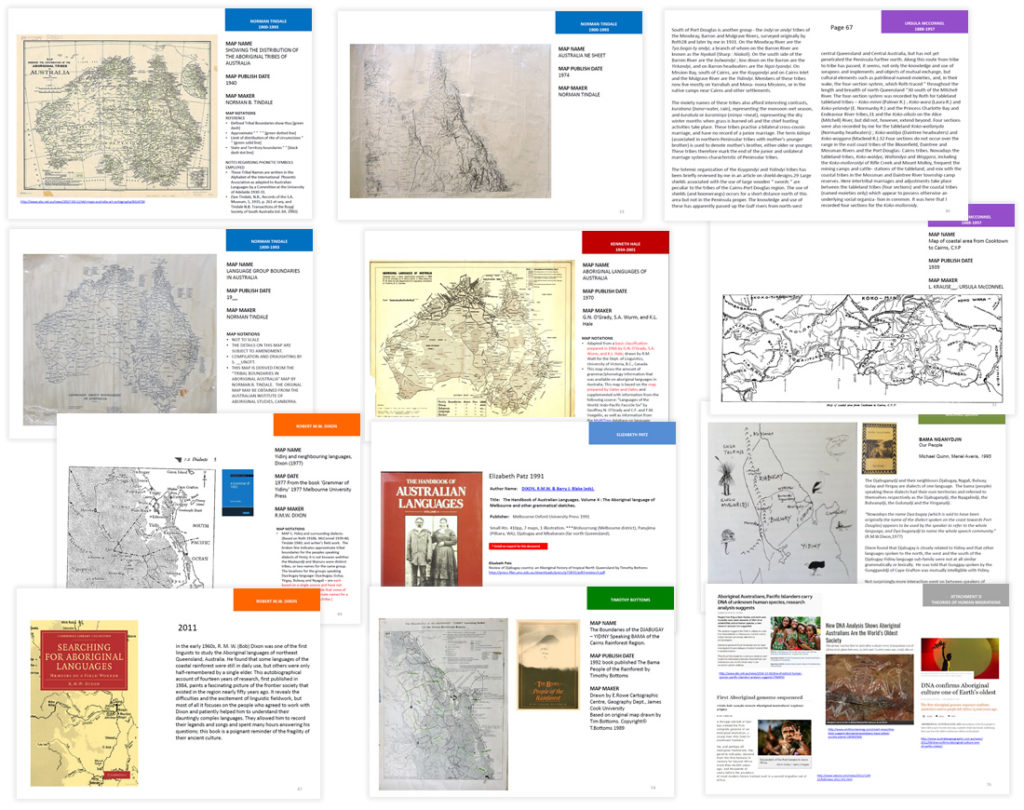 VIEW, DOWNLOAD, PRINT
This collection of information is not intended to infringe copyrights of the authors of the material. This collection is intended to visually index all available documented material regarding Buluwai. This work has been undertaken as a community project for Kuranda Region History Project.
We hope this index encourages further reading of the historical material presented and contributes a greater understanding of the Buluwai rainforest tribe, FNQ.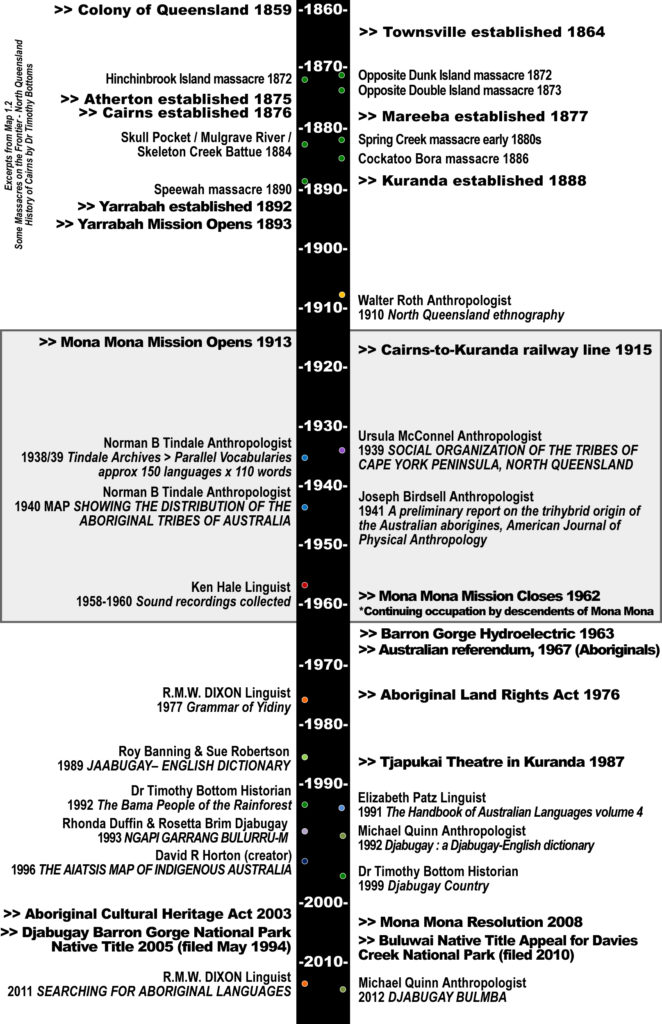 Buluwai Parallel Vocabulary
VIEW, DOWNLOAD, PRINT
This file is a digitised copy of  Norman B Tindale's own handwriting in 1938-39 when he visited Mona Mona.
Tindale collected 'Parallel Vocabularies': a word list of up to 110 common words, for 150 tribes across Australia, including the Buluwai tribe, documented south of the Barron River.
The Adelaide Universities Anthropological Expedition 1938-39 was one of Tindale's expeditions that took him all around Australia documenting and collecting Aboriginal culture, like a time capsule, and for nearly 50 years he worked on his archive.
Read more about Tindale's work on the Wikipedia page, click here
Watch a video with Professor Alan Cooper, explaining the Aboriginal Heritage Project, click here
* a salvage fauna and flora dictionary with informant Warren Brim (Buluwai), click here to open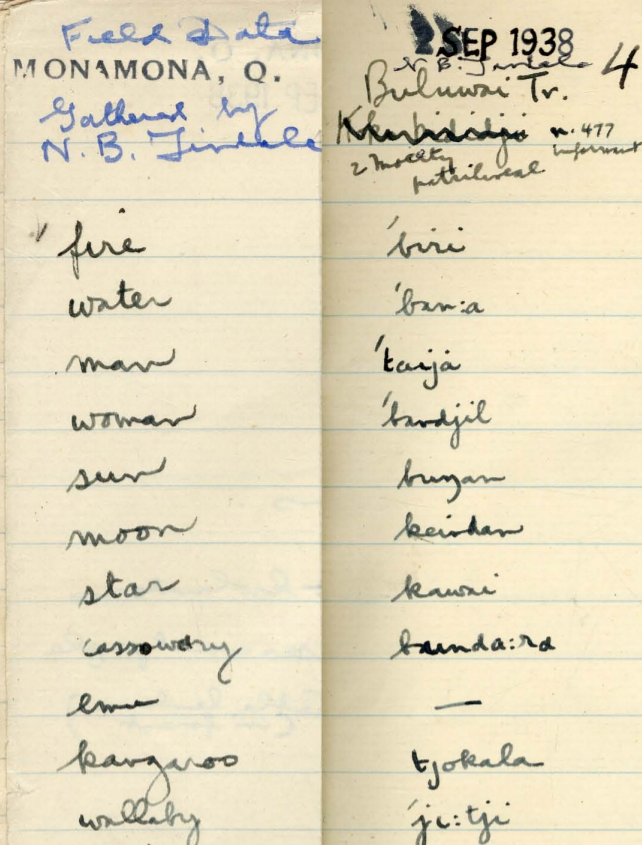 VIEW, DOWNLOAD, PRINT
Mona Mona Descendants grouping combined multiple tribes, the last remaining families of their FNQ tribes.
From 1913 Mona Mona Mission, situated on Flaggy Creek, north of Kuranda, became the home to people from neighbouring tribes such as the Kuku Yalanji, Djabugay, Muluridgi, Buluwai, Yirrgay, Gunggay, Yidindji, Ngadjan, Mbabaram, Djirubal, Ewamin and Wakaman tribes, as well as survivors from tribes further up the cape. The location of Mona Mona is on Djabugay country, but the tribes were glossed as 'Djabugay' when they were really a variety of tribes. The Indigenes who survived the killing times were to be at Mona Mona Mission for the next 49 years and later became known as Mona Mona Descendants.
Tindale Parallel Vocabularies FNQ Rainforest People Study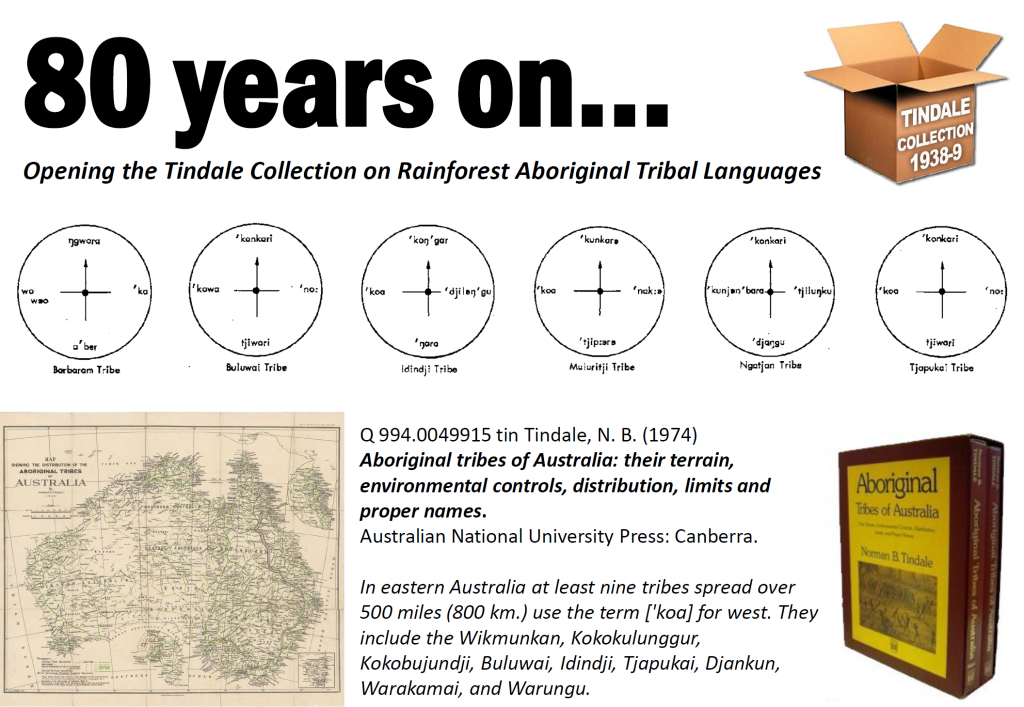 VIEW, DOWNLOAD, PRINT
The Tindale Collection Parallel Vocabularies is an extraordinary dataset of 110 everyday words recorded from around 150 Aboriginal Tribes across Australia.  The Aboriginal Rainforest People were among those preserved.
In eastern Australia at least nine tribes spread over 500 miles (800 km.) use the term ['koa] for west. They include the Wikmunkan, Kokokulunggur, Kokobujundji, Buluwai, Idindji, Tjapukai, Djankun, Warakamai, and Warungu.
Buluwai Stories : Video Series
Buluwai Stories : Oxycanus buluwandji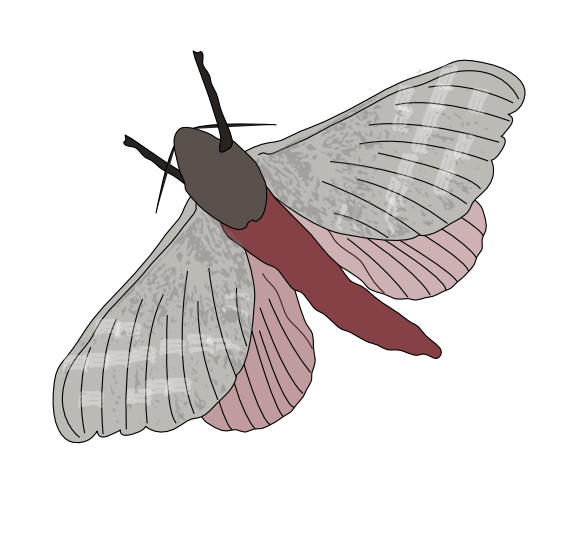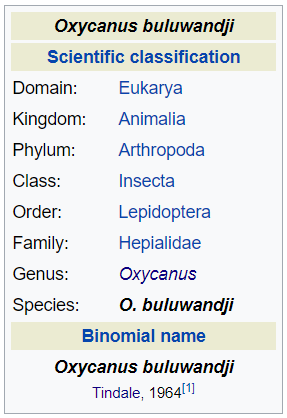 Katjiraka (Taipan) Family History
VIEW, DOWNLOAD, PRINT
Dianne Brim, sister of Willie Brim and direct descendant of Merukan and Tji:Auwin (AKA Toby Brim), has recorded in detail the family histories of the Buluwai clan group Katrijiraka (Taipan) in two versions.
Buluwai Native Title Appeal Davies Creek National Park 2010 (20 Pages)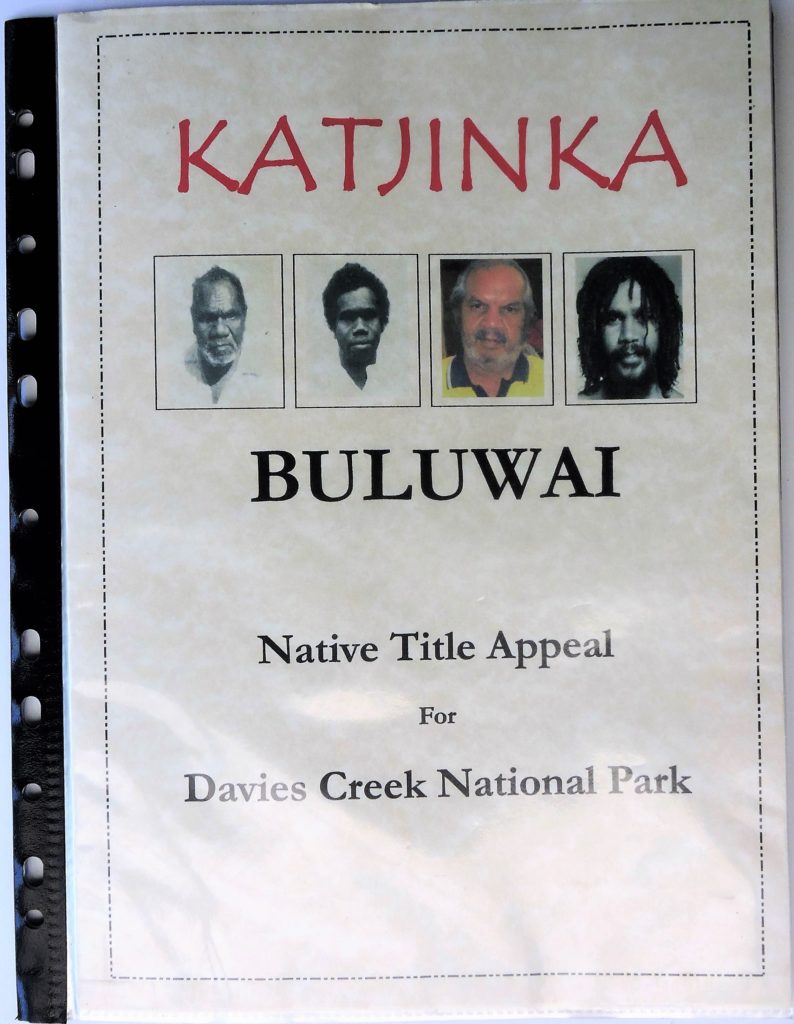 Katjiraka: The known Clan History of the Buluwai Tribe (60 pages)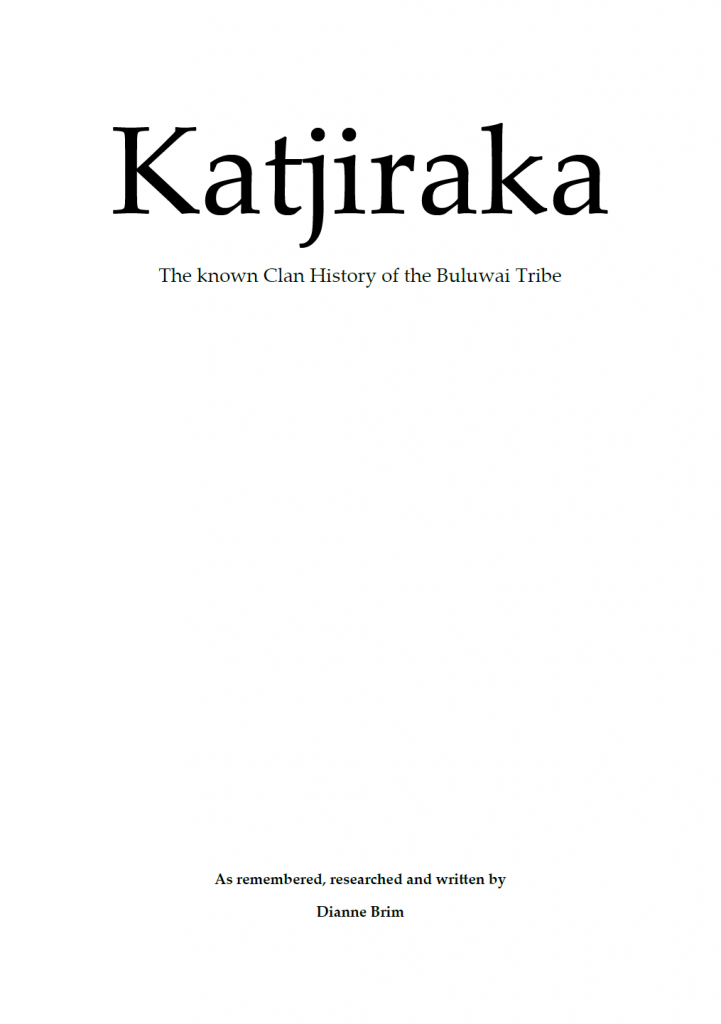 Did Homo erectus make it to Australia?
When Joseph Birdsell travelled with Norman Tindale visiting and recording tribes all around Australia, in the Wet Tropics rainforest, he noted a
separate grouping where "Physical characteristics of the Barrinean type, in addition to diminutive stature, include the un-Australian characteristic of crisp curly hair." The Ngatjan tribe were living at Lakes Barrine and Eacham on the tablelands.
BIRDSELL GROUPING (12 tribes of short-statured/ pygmy people): Ngatjan, Mamu, Wanjuru, Tjapukai, Barbaram, Idindji, Kongkandji, Buluwai, Djiru, Djirubal, Gulngai, Keramai
Homo erectus was last recovered 50,000ya in Indonesia, not far from the rainforests of Far North Queensland. Many records show Indigenous Australians using boat technology and recent DNA studies for the Aboriginal Heritage Project show at least 50,000 years of continuous occupation of the ancient Sahul landmass.