WILLIE BRIM
Willie Brim is Traditional Owner, Cultural Custodian, Bush Doctor and Songman of the Buluwai people of Kuranda in Far North Queensland. 
Willie is a self taught, multiskilled instrumentalist and conscious songwriter. He is a musician responsible for the cultural heritage of his people and revival of their language, music and dance. He writes about spirituality, cultural values and dreaming, the love and connection to his country and the struggle and resilience of his people.
Willie's performance career, political, public and community life spans decades; each chapter building on the last to bring about real change, in his lifetime, for the coming generations.
Willie Brim Memorabilia Poster PDF, PNG IMAGE | Facebook | Instagram
MANTAKA
Willie Brim is the front man of Legendary Reggae Indigenous outfit Mantaka.
They formed in 1978 when Willie was just 18 years old. Mantaka were icebreakers of their era melding Reggae, Roots, Rock, Blues and Traditional music to create their individual upbeat distinctive sound.
Mantaka have been labelled as forefathers of the Reggae Roots movement in Australia with a repertoire of hit songs that have become anthems of this land and their people.
2018 celebrates 40 years of Mantaka music and Aboriginal reggae in Australia.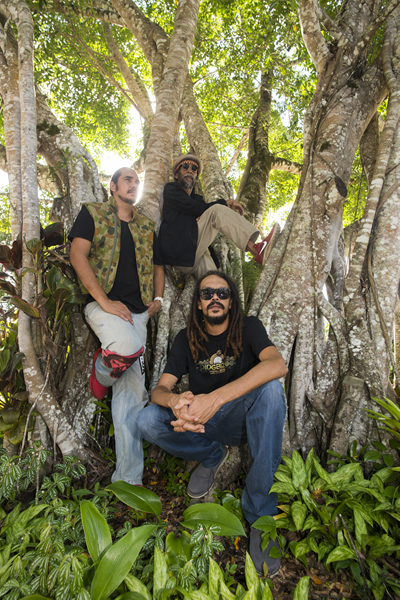 ZENNITH
The future of Australian roots music is here.
Originating from the tropical rainforest of the Far North, acclaimed Indigenous outfit Zennith have gone from strength to strength since the release of their debut EP back in 2007. One thing is consistent though, they've always kept true to their style – embracing a solid mix of roots, hip-hop and reggae – melding the three to create a dynamic sound that has seen them grace stages at BluesFest, Woodford Folk Festival and Splendour in the Grass.
The foundation of Zennith is the band's lifeblood, the Brim family – brothers Astro and Aden, and father Willie – who created the sound back when the brothers were in high school, jamming in the family's music room in their rainforest home of Kuranda. Willie himself is no stranger to music fame – harking from legendary local Indigenous outfit Mantaka – so it was no surprise he passed the music gene onto his sons. There was something special about Zennith from the very beginning. Not only with the band's sound, which as expected is tight – an indelible chemistry – but also for their knack in writing catchy songs that appealed for all ages, and fans of all genres. Zennith didn't just reach hip-hop and reggae fans, they drew acclaim from those on the folk circuit, hard-core rock music lovers and beyond.
WILLIE AND THE POOR BOYZ
Willie Brim formed the group as a necessity to keep the music and tradition flowing of original songs about their home town Kuranda. The collaboration produced a memorable ensemble of songs such as Guluya (left), Mantaka and Living in Kuranda recorded for the CD JUSTICE & HOPE, MONA MONA DESCENDANTS, ARTISTS AND BANDS – VOLUME 1, PEOPLE'S CELEBRATION 2011.
Son Aden and schoolmate Isaac Crowley, then both 10-11 years, learnt their instruments under the guidance of Willie, Aden on guitar and Isaac playing bass. As their repertoire and confidence grew Willie introduced them to song writing in his own methodology and style.
Aden and Isaac started high school and joined with friends to create the band Zennith, which would go on to become an acclaimed Indigenous outfit from these fertile grounds.